Sodium Salt Chic Salt Of Glibenclamide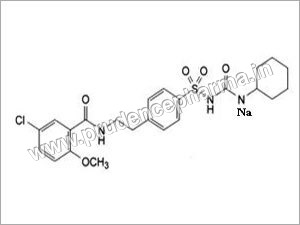 Sodium Salt Chic Salt Of Glibenclamide
Product Code : SS01
Brand Name : PRUDENCE PHARMA
Based in Ankleshwar, Gujarat (India), we, Prudence Pharma Chem, are reckoned as one of the trustworthy manufacturers, suppliers and exporters of highly effective Sodium Salt Chic Salt Of Glibenclamide. Sodium salt is intermediates of Glibenclamide that is widely required in pharmaceutical industry due to its effectiveness, accurate composition, long shelf life and economical rates. Our well formulated Sodium Sodium Salt Chic Salt Of Glibenclamide is developed by our competent professionals using required compounds and formula to meet international quality standards.

Specifications:
Molecular formula: C23H27ClN3SO5Na
Molecular weight: 516
CAS Number: 10238-21-8
Application: Use for manufacturing of Glibenclamide
Chemical Name [IUPAC Name]: 5-Chloro-N[2-[4[[[Cyclohexylamino)carbonyl]amino]sulphonyl]phenyl]ethyl]-2-methoxy-benzamide sodium salt.