Niclosamide Anhydrous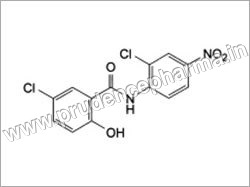 Niclosamide Anhydrous
Product Code : CAS 50-65-7
Brand Name : PRUDENCE PHARMA
Since establishment of our company, we, ISO 9001:2008 certified organization, are listed amongst noted manufacturers, suppliers and exporters of the best quality Niclosamide in Ankleshwar, Gujarat (India). This is a teniacide belongs to anthelmintic family especially effective against cestodes, which infect humans. It is also utilized as a piscicide. It is to be use for treating worm infections, and is mainly used to treat tapeworms and is not effective against other worms including roundworms or pinworms. It is a chewable drug taken orally, dosage depending on kind of worm and age or weight .

It is made for veterinary utilize on CATS, DOGS and LIVESTOCK as anthelmintic against rumen flukes and tapeworms. Niclosamide is a veteran salicylanilde nowadays very scarcely utilized in pets and livestock as it has been made from more effective compounds. It is gettable in a few countries in the form of pills, drenches, etc. and feed additives.

Owing to its narrow range of activity it is widely used in combination with a large array nematicide (e.g. levamisole, benzimidazoles, etc.).

Specifications:
Molecular formula: C13H8Cl2N2O4
Molecularweight: 327.13
CAS Number: 50-65-7
Application: Anthelminthic
Chemical Name [IUPAC Name]:

2', 5-dichloro-4'-nitrosalicylanilide.
5-Chloro-N-(2-chloro-4-nitrophenyl)-2-hydroxybenzamide.